After the exciting and informative tour of Mies van der Rohe's iconic Farnsworth House, we looked for a restaurant in Plano, IL, and found a small, family-run Mexican place with décor dedicated to Frida Kahlo. To drive to Columbus, Indiana, we had to head back toward Chicago before turning on I-65 south toward Indianapolis. Traffic thinned out somewhat, with highlights of the 4+ hour drive being the Subaru factory, large tracks of wind farms with the steady rhythm of their blades and a series of quirky roadside signs.
With a life long interest in design, art, and architecture, we had wanted to visit Columbus, Indiana, ever since learning about it from Annie's parents several years ago. As part of an architectural family, we thought it would be fitting to see the city known for it's civic commitment to modern architecture. It is a fascinating story about how this came to be.
We stayed three nights as we knew there was much to see in and around this community and it was close enough for us to do a day trip to Oxford, Ohio, to visit family history. Columbus' commitment to modern art and architecture means that people there grow up and live in the midst of good architecture, which nurtures a sense of community pride that is immediately evident. Imagine what it would be like going to well-designed schools, studying in beautiful libraries, having care administered in well-designed hospitals, working in public buildings and factories, all designed by leading architects of the day, and with some contemporary art included. Residents, long familiar with tourists who come to visit their city, have a welcoming attitude and engage visitors to discuss points of view about the buildings, materials, architects, sculpture, or simply provide directions to anyone who is looking for something in particular.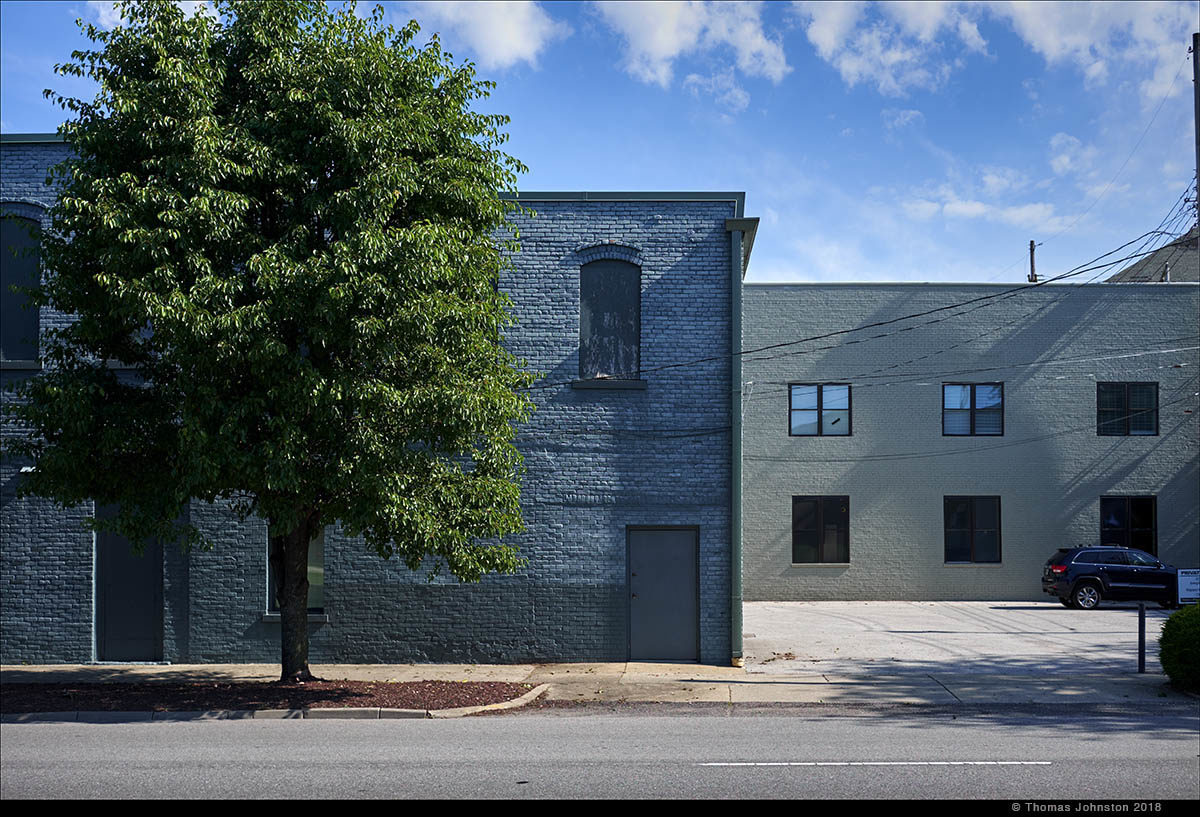 Initially you can see a large number of fine examples just by walking in the core downtown area. On the plaza in front of the public library, designed by I.M. Pei early in his career, stands a bronze, Large Arch, 1971 by Henry Moore. In contrast to this classic modern sculpture is a large-scale kinetic sculpture, Chaos I, 1974 by Jean Tinguely, located in The Commons.  Across the street from the library is the 1942 Eliel Saarinen First Christian Church. I had an unusual experience in the interior space in that, within the large, open volume, I felt a sense of reverse vertigo. I can't recall having this kind of spatial experience in the past. Another street leads to the city hall, which has a Robert Indiana painting, and another by William T. Wiley. In retrospect, we saw the highlights and found some gems just by walking, and viewed several others outside of the central core.
One of the main highlights was visiting the Miller House and Garden, by architect Aero Saarinen and designers Dan Kiley and Alexander Girard. It is now under the care of the Indianapolis Museum of Art- IMA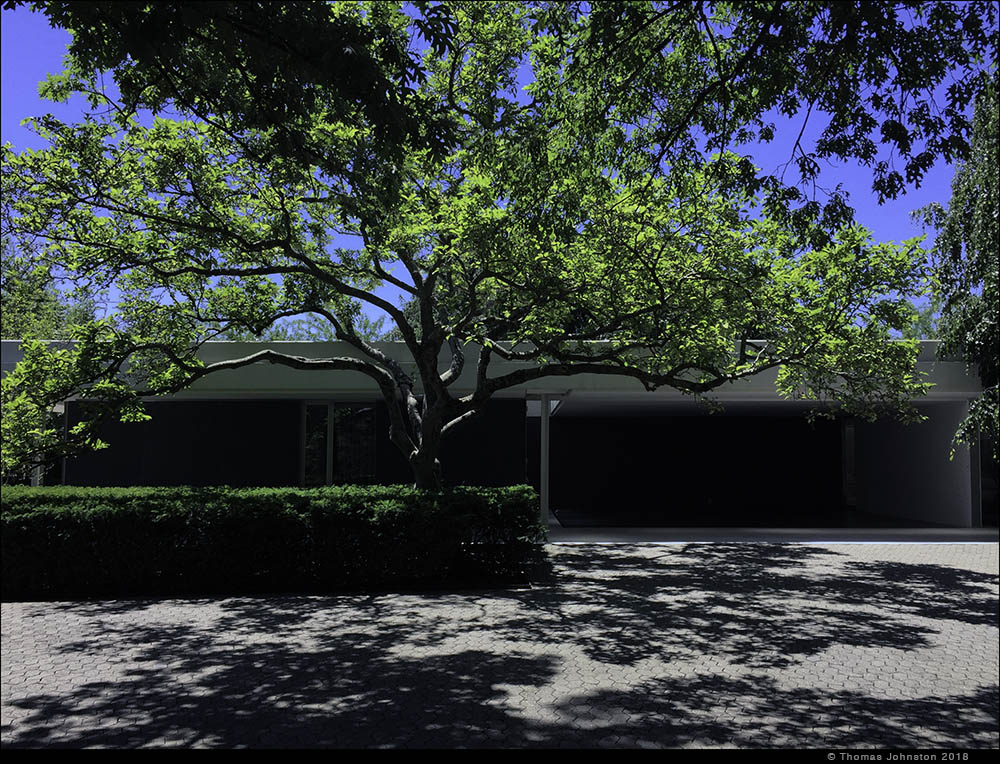 Eero Saarinen, Architect, Dan Kiley, Landscape Architect, 1953-57
You access the tour from the visitor's center, meet your tour guide and watch an introductory film about the home and family, before boarding the small bus that takes you to the property. This tour alone is worth the visit to Columbus. The tour groups are small, about a dozen participants, comprised of like-minded souls.
If you would like a preview beyond the links provided in this post, you might enjoy the feature film directorial debut of Korean film maker, Kogonada whose film, Columbus is set here and features several of the key buildings.
For the purposes of this post I'm including a gallery of several images I made while walking around the city and parks. The images are from my point of view and serve only to hint at the beauty of the architecture. The images were taken during the first week of June, and one set of images features a tall observation tower that has a powerful message at the ground level.
We've all seen these signs in populated areas where we, the public, have to be reminded, that we are not alone. The first time I recall seeing one of these messages was while walking across the Golden Gate Bridge. Two days after I made this image we learned the sad news of fashion designer Kate Spade, less that a week later, more sad news about Anthony Bourdain. In making the picture, I was interested in the play between the painted-over surfaces on different planes of, I assume graffiti, the framing of the light through the passage, and the text. On the more emotional level, I was interested in the chilling contrasts between the way most people enjoy the park and tower vs. the deeply sorrowful and confused feelings of a few as they climb the stairs; between the engagement of the photographer on a more detached, visual level vs. my profound un-comprehension of why someone might take their own life.
We left Columbus, returning to Chicago in the midst of weekday traffic; passing again by the fifteen-mile section of wind farms that stretch horizon to horizon, amongst the numerous truck/trailers, and again by the entertaining road signs.
Approaching Chicago and seeing Gary, Indiana is a reminder of the "glory days" of industry. Soon we were in the midst of afternoon rush hour traffic navigating tunnels and roads we usually depend on public transportation for, on our way to the hotel. My next installment will feature a set of images taken in Chicago and referenced in the previous post.