I've been in this Seattle neighborhood many times over the years, sometimes just passing through on my way to other places in the city, sometimes exploring, by car and on foot, walking, with camera. For many years it was a quiet out-of-the-way neighborhood on the northern edge of the downtown core, where, until recently, it was a challenge to find a place for a decent lunch or, if one can imagine in Seattle, a good espresso. Still located in this neighborhood is Seattle's premier camera store; there was a professional photo lab for many years, and until recently one of my favorite exhibition spaces Wright Exhibition Space. This neighborhood lies at the north end of the main downtown area, bordered on the east by I-5, on the west by Hwy 99, and on the north by Lake Union, thus it is now referred to as South Lake Union. I've seen this neighborhood transform from an agglomeration of small industry and manufacturing, specialty retail shops, artist's lofts and alternative spaces, into a vital retail neighborhood, with major corporate headquarters and research facilities.
My motivation for this post is not about urban renewal/revitalization or gentrification, but rather how I've found myself confronting unexpected visual experiences in specific places. Recently we were there to visit galleries and see exhibitions. We decided to walk to the various galleries, and see some of the new and sudden architecture. I was struck with that strange sensation of place – a feeling of knowing where you are, out of familiarity; but the new buildings gave a sense of being in a new neighborhood, much like in any city in the western world. I felt a need to stop and take a picture, ostensibly of a new building across the street. I wasn't quite sure what compelled me to want to stop at this specific location, other than to take a picture of the building and plaza. We walked a few feet further and it was then that I recognized a shape that seemed familiar, related to a shape I had discovered when walking and photographing here nearly two years earlier. Seeing this shape triggered a sense of déjà vu and curiosity.
In 2014 what captured my attention on a sunny afternoon, was the challenge to make something interesting out of a seemingly banal, non-situation, a typical construction site, in action, everyone going about their job of building a new building, nothing glamorous at that moment. Yet instinctively I felt an urge to make an abstract picture, using an assortment of shapes, forms, and colors of the construction site. All the elements that I like to work with were there, right in front of me: transformation of space, a full palette, red, yellow, blue, black, white and gray, and numerous linear elements resulting in a variety of shapes. I usually like to look around when taking pictures, and I often look behind me afterwards, just in case there might be something visually compelling. Within in few feet, I found a shape, a hole in the wall, graphically, a flat shape on a monochrome textured surface. Now, a year and a half later, on a somewhat sunny winter day, as we walked up the street, through ongoing construction, passing new buildings, the strange sensation mentioned above, experiencing something curious – is the inspiration for this post.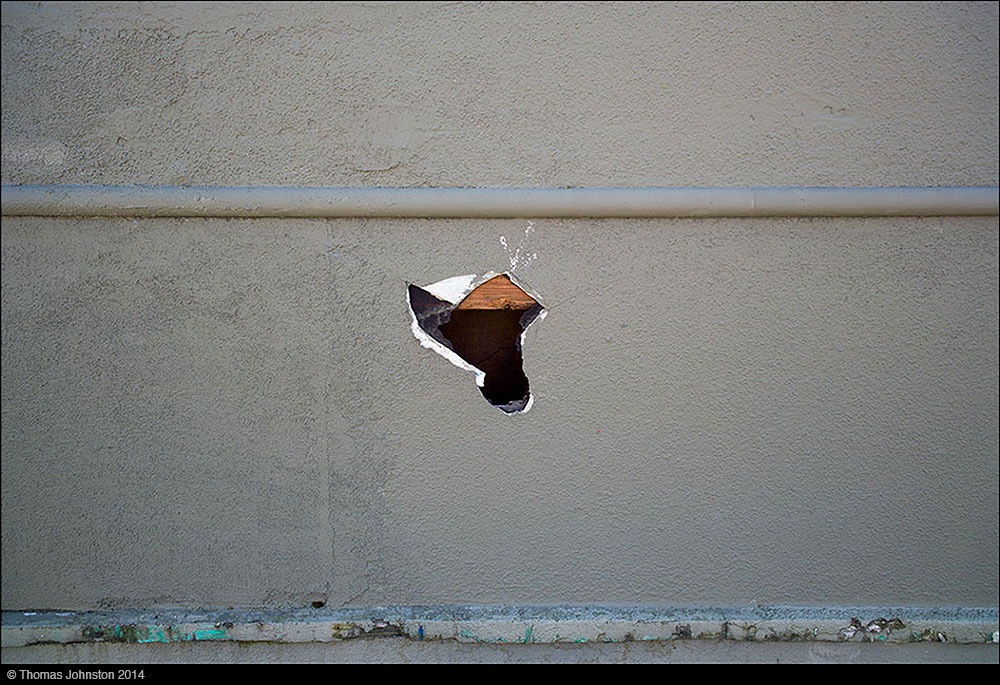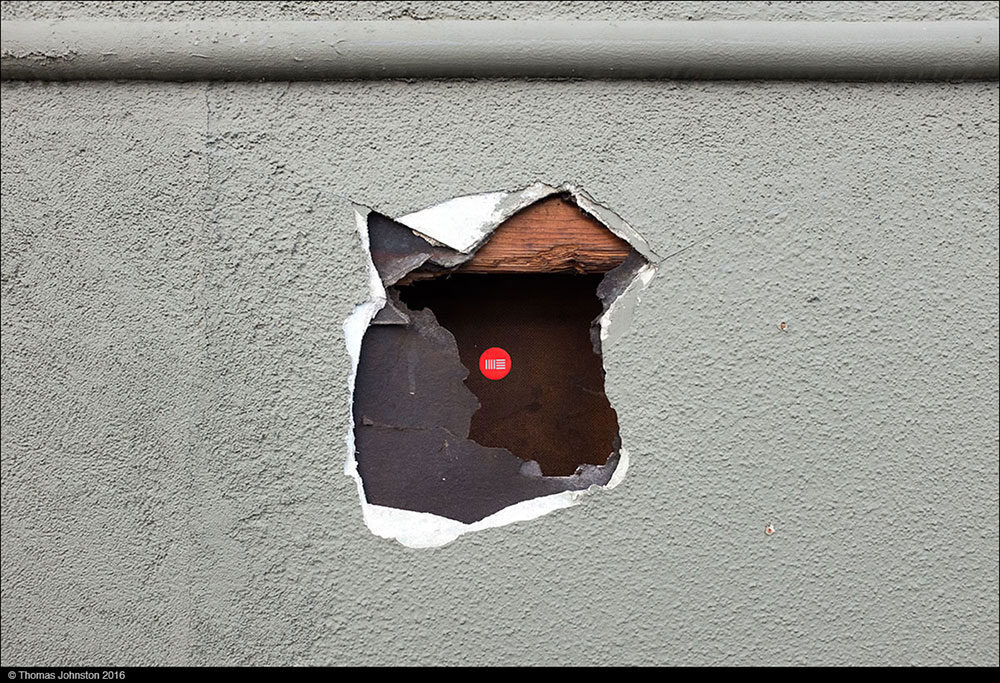 The four pictures included here document the change of a specific place, a wide shot and a close-up, one of each, made some 18 months apart. I was inspired to take the above pictures, and thought it would be interesting to compare the four images. I was certain that this new shape was related to the one in the earlier picture, and as I thought about the shape, the hole in the wall, most likely the result of a construction accident, I wondered, why hadn't it been patched, going on nearly two years? Perhaps this property will soon be razed as part of the urban renewal of this neighborhood.
I've seen the transformation of this neighborhood and have watched it change, slowly at first, but as of this writing, the transformation that began some 20 years ago is in full swing and continues to evolve. Change is something we all experience and think about in different ways.
Should you find yourself in Seattle, you can view and download a brochure about the art on public display with a suggested walking tour of the neighborhood: http://vulcanrealestate.com/assets/pdf/SLUArtpanel.pdf
Click on a thumbnail image to activate a gallery of the images and view them larger: