Last month I wrote about seeing eight Mark Di Suvero sculptures at Crissy Field in San Francisco. My post from last week was inspired by a visit to the Art Institute of Chicago and I listed a few of the artworks in the modern wing that I found compelling. It was like visiting old friends, and meeting some new ones. My post addressed just a few of the works I came across that day, things I hadn't seen in a while, and some I only knew of through publications. It is always inspiring to revisit works, see them afresh, revel in their beauty, and see how they've changed in my perceptions and those of others.
This past weekend I had a similar experience when I went to the Wright Exhibition Space in Seattle. When I first saw the notice for 9 from L.A. I thought to myself, oh, I know those artists, their works… When I entered the space, the first thing I saw was Billy Al Bengston's 1976 screen, El Requeson Dracula, which was much more conventional than the lacquered aluminum panels I remembered. Turning into the hallway, there is an intimately scaled De Wain Valentine on a pedestal: nice, elegant, beautiful, and exquisitely lit. Proceeding down the stairs into the main space (and what a beautiful space it is – a former industrial warehouse transformed by the Seattle firm, Olson Kundig Architects) you get an overview of a select grouping of works.



As you focus more on individual artworks, you see: White Light, 1997, a painting by Mary Corse, in which values change and colors shift as your viewing location changes; Peter Alexander's five component Black Wall Piece, from 1971. Nearby, a surprising – that is, new to me – 1972 light work, Pillar, by the master of light and space, Robert Irwin. I refer to it as a light work because it transforms light in such a way that it is difficult to see the object, which of course is part of the beauty and mystery of art, when the art object disappears. This pillar diffracts and splits the light all around itself. Nearby, the late John McCracken's reflective column functions in another way, breaking and mirroring the environment that contains it, sucking it into its reflective surface and re-presenting the space it inhabits.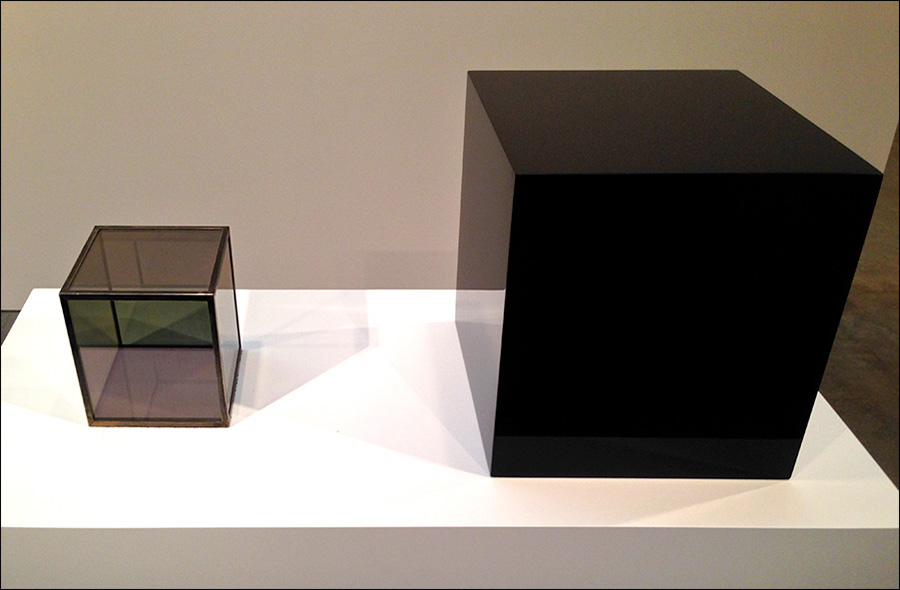 Two cubes sharing a pedestal – an intimately scaled color infused 1965 glass cube by Larry Bell,
and John McCracken's 1971 black lacquer High Finish Box.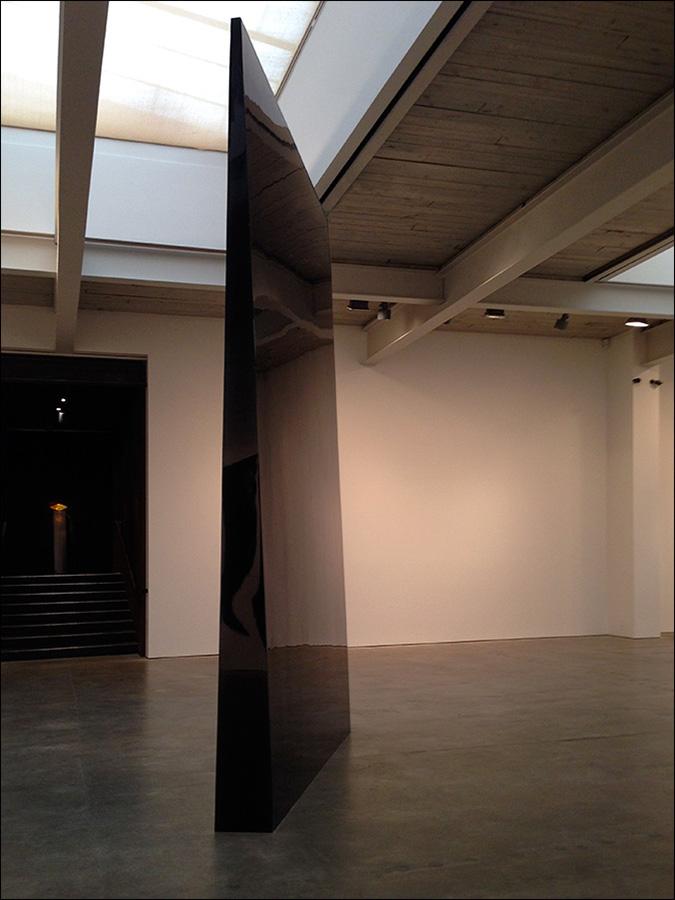 These works share the space with De Wain Valentine's 1975-76 Gray Column, a massive, wedge-shaped column of black pigmented polyester resin. Installed beneath a skylight, it reaches upward, into the diffuse light that both caresses the surface and is also absorbed into the depths of the translucent resin. This is the largest work in the exhibition, 12 feet high and 3,500 pounds, and commands a presence, not just because of the scale, but as with the other works, it is a masterpiece.
The north gallery is devoted to the history of the Gray Column, and is well worth spending some time learning about what it took to bring this work into being and the pioneering research that led to the development of Valentine MasKast Resin. Were it not for the insights and major effort of The Getty Conservation Institute, this work would probably have languished in storage, where it had been for some years. As an aside, I was impressed to see that Valentine and his assistants were well aware of the importance of appropriate health and safety issues necessary to work with the materials.
The third gallery has Ed Ruscha's painting Vanishing Cream, from 1973, a 1964 painting by John McCracken, Craig Kauffman's 1966 vacuum formed lozenge, and a 2012 painting, Big Pink Square, by Peter Alexander. Valentine's 1970 Circle Blue, a 70" diameter tapered disc of translucent blue polyester resin, sits on the floor, balanced ever so delicately, both absorbing and reflecting the light into it's mass and letting us see through and beyond the upper portions of the circle.
Inspired by 10 from L.A., a 1966 show in Seattle organized by John Coplans and the recent exhibitions Pacific Standard Time, 9 from L.A. brings together this seminal group of artists who were based in Los Angeles and who contributed to the development of art in that city and beyond. Most of them are still working today and it is always exciting to see their works. Another reference is to a 1968 exhibition that I saw at the Vancouver Gallery of Art, Los Angeles 6, also organized by Coplans. In addition to Irwin, Bell, Kauffman, and McCracken, it featured works by Ron Davis and the late Edward Kienholz.
9 from L.A. is a rare opportunity to see these works in Seattle. If you haven't been to the Wright Exhibition Space, this is a perfect pairing of installation, light and space, by the artists who helped us see and understand the beauty and importance of those qualities. This beautifully installed exhibition runs through April 25, 2014, and is made possible through the generosity of Bagley and Virginia Wright Foundation.
Plan your visit accordingly as the hours are: 10 a.m. – 2 p.m. Thursday and Saturday. Note: The Wright Exhibition Space closed in August 2014.

all photos in this article are © Thomas Johnston 2013