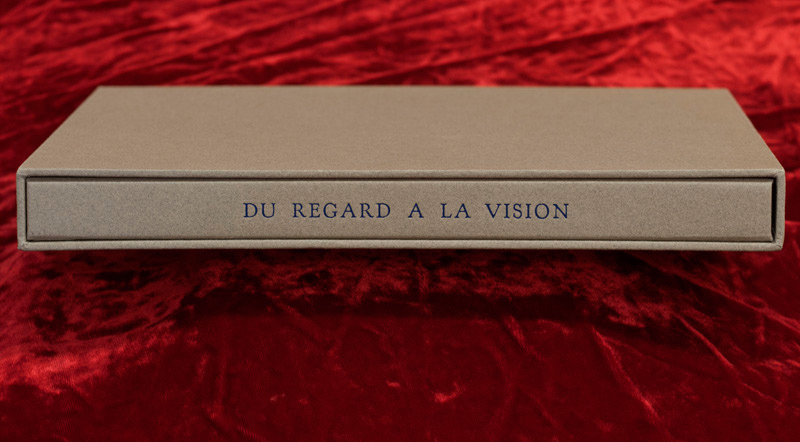 Du Regard à la Vision, a limited edition livre de luxe with five aquatints and poem, The Panther, by Rainer Maria Rilke.  Publisher: Éditions Lacourière Frélaut, Paris, France, 1994. Dimensions: case- 10 5/8" x 8 ½" x 1 1/8," images- 10" x 8"
When Denise Frélaut-Fischerman and Luc Guerin took leadership of publications and editions at Lacourière Frélaut, their first project was to invite four artists, including myself, to create a set of livre de luxe.  The other three artists invited to participate in this first project were ChristianC, Martin Müller-Reinhart, and Françoise Roy.
Rilke's beautiful poem The Panther was the inspiration for this set of images. Years earlier we had spent a new year's day at the Jardin des Plantes, looking at the animals in the zoo, watching the panthers, wondering if these could be descendants of those that had inspired Rilke to write such a moving poem. We spent quite a bit of time on that cold January day, looking, and taking some photographs of those beautiful, slow pacing, caged animals.
When I was invited to participate in the book project I revisited the poem and proposed the idea to Denise. She secured the publication rights to publish the poem for this project and we moved ahead.
During that year I had been living in France's Sauternes region as the artist in residence at Château Suduiraut and would travel up to Paris on the TGV to work in the atelier in Montmartre. I would aquatint the plates, paint with the acid directly, using the spit-bite method specifically to achieve a wide range of delicate tonalities, followed by burnishing and polishing to further enhance the subtle value relationships. As evidenced in much of my other works, it is important to me to retain a directness and spontaneity in the images, working the values and textures to create subtle variations even into the deepest of blacks on black.
As in the poem, I wanted to focus on the rhythm, movement, pacing, space, and importantly, looking, without doing a literal illustration of an animal in a cage. I used some of the grand, empty rooms of the chateau as references for interior spaces, and the massive walls and window wells of the chai, for my compositions.
The poem was letterpress-printed in three languages and colors: English in sienna, French in blue, and German in black.
That year the four books were featured in the SAGA exhibition in Paris, STAMPA in Madrid, and other exhibitions.