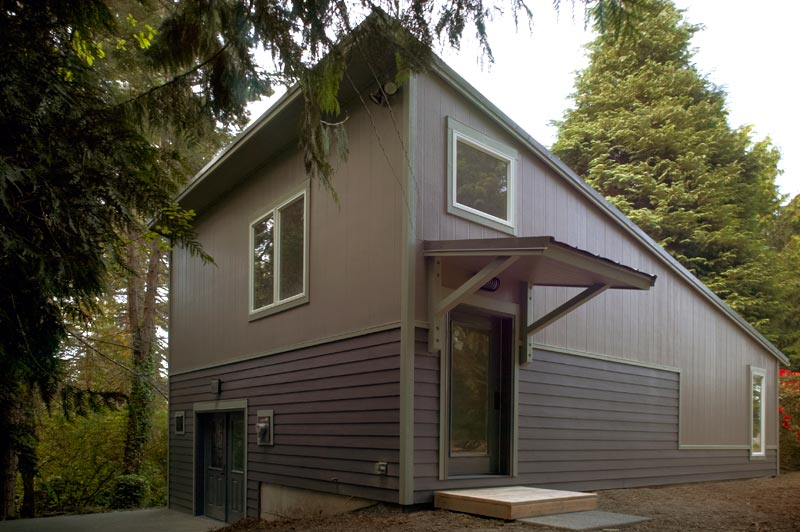 Building a studio begins to grow, from the first scrap of paper and box of pencils. Following years of rented spaces, at the mercy of landlords and 30 day notices, when you find you have to once again pack, prepare the tools, materials, inventory, and call on friends to help with the heavy stuff, the dream of having control of one's own space, from the ground up, is a dream that one day becomes a reality.
A few years ago we relocated and found a house we liked, and looking to that dream, there was room to build a studio on the property. I met Bob Leverich, an artist whose work I admired, is a trained architect, and interested in sustainable design. We talked, viewed the site, reviewed some of his previous buildings; he drew, and we began meeting regularly, defining my needs within the space and budget. The basics: do as little to disrupt the environment, build green, be energy-efficient, have running water, radiant heated slab, metal roof, north light windows, storage loft. Plans were drawn, models built, engineered, permits approved, details refined. Building the studio was underway; ground was broken on a wet day in December! Details were modified and refined during the process. Nine months after our initial meetings the building met the final inspection and I began moving in at the beginning of summer.
During the construction I documented the process, day and night, in the rain and freezing weather, and during the blooms of spring. Here follows a presentation of a few of the images from that series. I have included a gallery of images beginning with the first day of excavation.