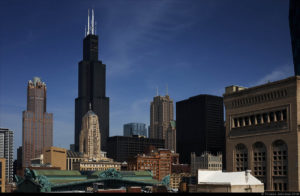 In the previous posts I've included some images from our travels in May and June, centered in Chicago with a road trip to Plano, Illinois and Columbus, Indiana to see examples of modern architecture that we had been wanting to see. Chicago framed that road trip, timed to coincide with The Blues Festival, Printers Row Lit Fest & Book Fair, and specific gallery & museum exhibitions. In addition to the activities outlined in those posts, some of the other shows we saw are on view through much of this summer. Chicago of course is one of, if not the prime example of city as architecture, an international city that draws citizens from around the world to live, work, and visit its many treasures.
The new Alphawood Exhibitions space (see previous post) adds another insightful contribution to the cultural field, while on the south side, Theaster Gates' Rebuild Foundation at Stony Island Arts Bank is contributing with the restoration and transformation of building projects and social change: renovating and rebuilding neglected structures, creating new spaces, a community center, hybrid gallery, and media archive which includes the research library of Johnson Publications. The current exhibit Out of Easy Reach is part of a three-venue exhibition of women of color. This component includes works by Barbara Chase Riboud, Sheree Hovespian, and an installation by Shinique Smith.
Hyde Park Art Center is another vibrant center with a dynamic gallery program and cultural workspaces for youth and all members of the community. We saw Anna Kunz's Color Cast, site-responsive installation. Other galleries at the center featured works by Lynn Basa, Christine Forni, Diane Juardo, and Caroline Liu in the exhibition Fugitive Narratives on through August 5, 2018.
In yet another part of the city, we visited several galleries relocating to the West Town arts district. First, Rhona Hoffman's new, beautiful light filled space. Then, just hours before the doors were to open, we saw the new space for Monique Meloche Gallery. Their inaugural exhibition is a show of paintings by Jeff Sonhouse. A couple blocks away on Ashland Avenue, Corbett vs. Dempsey is showing Josiah McElheny through early August. It was also exciting to visit the relatively new space for Aspect/Ratio.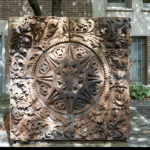 Another day we went to the Graham Foundation to see their historical building and to view the current show of Torkwase Dyson's sculpture and beautiful drawings. It is rewarding to spend time in their bookstore and in the courtyard, standing face to face with several artifacts of Chicago's architectural history.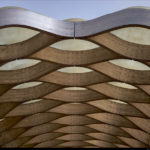 A short walk away, we took the Nature Boardwalk at Lincoln Park Zoo, completed in 2010 by Studio Gang Group, founded and led by Jeanne Gang. This beautiful and intimately-scaled pavilion overlooks a pond on this 14 acre site. Studio Gang's Aqua Tower continues to amaze as it is a refreshing addition in the downtown area; and witnessing their newest tower as it rises, creates a sense of excitement with each new level in anticipation of its projected 2020 completion. It and other recent additions to the skyline contribute to the rich architectural heritage of this dynamic city.
Amongst this rich history of architecture, it is always a pleasure to visit Federal Center Plaza comprised of two towers, and the one-story U.S. Post Office as part of the three building campus designed by Mies van der Rhoe; on the plaza stands the monumental sculpture, Alexander Calder's Flamingo.